Our Sincere Gratitude
From the day we began this idea, in our basement, just days after the worst attack on American soil, we have been blessed with the support from many, many individuals donating toys and money.

We also feel that we were sent specifically to the helping heart of NYC firefighter Jimmy Brown, who has an incredible story of his own from Sept. 11. He was assigned to Engine 10 firehall which was located just across the street from the WTC site. His station was one of the first to respond and was ultimately destroyed. Jimmy was inside Tower 1 when Tower 2 fell. It is heroes like him that continue to put their lives on the line each and every day they go to work.

Then we were led, with Jimmy's help, to Diane Buhler, one of the organizers of The Santa Cause Project in New York City. Their initial goal was to collect 11,000 new toys for all of the victims of the WTC disaster. From first-hand knowledge, we believe they will not only reach that goal, but will surpass it. We will continue to be involved with the Santa Cause Project because what they did, in such a short period of time, is nothing short of a miracle. This organization and it's members, like Diane Buhler, deserve our thanks and appreciation for bringing together so many families at this time of sadness.

Diane, like firefighter Jimmy Brown, went the extra mile to make sure that a destination for our toys would be found and for that, we will be forever grateful to the both of them.

They are both very special people who we will always remember.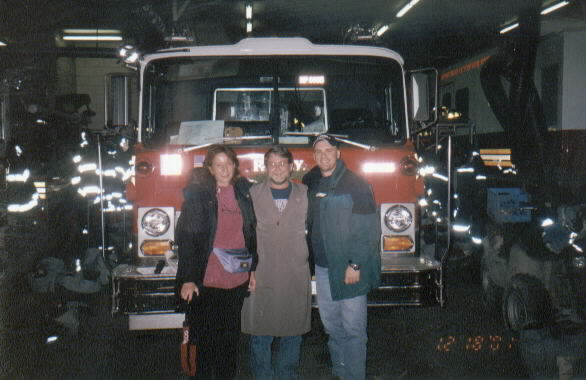 Libby & Rick Tucker with NYC firefighter Jimmy Brown.
Jimmy answered a message I posted on the FDNY message board regarding where we could take our toys in New York City. He was a tremendous help in that he located the Santa Cause Project for us.
We Thank All Who Contributed!
We want to thank Buddy Rogers, in Chattanooga, for distributing the collection barrels around Chattanooga.

We thank Ryder Truck Rental for offering a great deal on the rental truck to get the toys to New York City.

We thank Marianne Carhart, one of our good friends, for collecting toys in Dayton, Tennessee and also Mountain View United Methodist Church for collecting toys.

We thank Jody Millard Pest Control, Hamilton County Republican Party, J. Pat Williams Insurance Co. and most of all, we thank the children at Birchwood Elementary for sharing the love of a child with another child at a very special moment in both of their lives. These children will take with them, the character traits that they learn in school, along their lives forever.